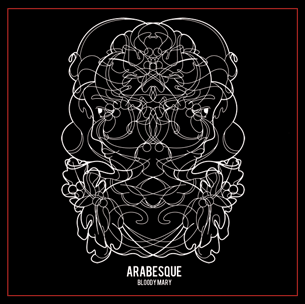 Description :
Berliner DJ/producer Bloody Mary bridges the gap between last year's Black Pearl and her forthcoming sophomore album (due for release in 2011), furthering her dub, electro pop sound aesthetic with the addition of guest vocalists.
Earlier this year, Bloody Mary launched her own imprint Dame-Music with the mix CD Decadence, which Resident Advisor described as "bumping, bubbly, outgoing and juicy." Now Mary is back with the Arabesque EP, featuring two originals that reunite her with frequent studio partner Sierra Sam (Dirt Crew, Supplement Facts).
"Arabesque" is a sort of gypsy-house number, with clattering syncopated percussion underscored by a floating sombre melody, and halfway through its six-minute duration, we hear an alluring voice enter the picture: Sam Leigh Brown – who's lent her talent to Lee "Scratch" Perry, Moonbotica and many others – sings some non-literal intonations that nonetheless offer a lulling undercurrent of emotion.
The subdued, yet skittering electro vibe of "Spinning Around" was created by Mary and Sierra Sam and then passed on to newcomer vocalist Eyke, who penned the lyrics that ultimately gave the track its title. In his dark, emotive delivery, he compares the overpowering force of love to being possessed by the beat while in the club. "Heart is beating faster now / Feet are marching on their own."
To round out the EP, Bloody Mary hand-picked two admired tech/ house producers – Jin Choi (Contexterrior) and Basti Grub (Desolat, Cocoon) – to put their own aural stamp on the title track, providing a wide palate of flavors for any given moment on the dancefloor.