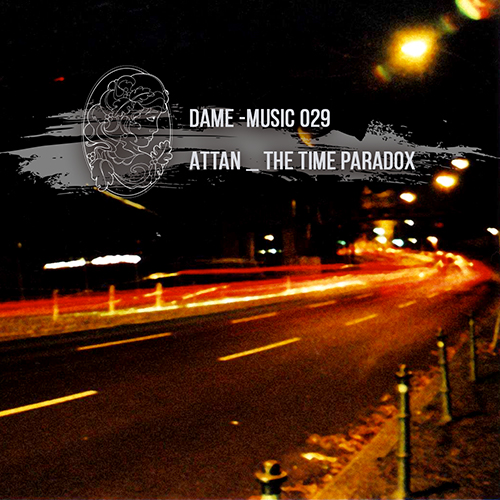 Description :
Dame-Music is proud to present, for its 29th release,  Attan first solo EP "The Time Paradox"
Making appearances on label compilations and collaborations over the last three years, most recently being one half of  The Jaydes duo with label owner  Bloody Mary, time has come for Attan to make his own solo EP.
Time is one of the most powerful influences on our thoughts, feelings, and actions, yet we are usually totally unaware of the effect of time in our lives but we live with it and try to find the right balance between the energy of the youth and the wisdom of the elder. An exercise that Attan transcribe properly in this three track EP.
The titled track, "The Time Paradox", introduce itself with a classic 707 beat until a deep pad melody make its way up in the mix bringing warms to the rhythmic. It is then slowly topped by an insane acid line followed by more 707 elements. A deep and powerful tune that will drag you away.
On the B-side, both tracks deliver energetic drum lines that will not leave you cold and will make you unconsciously move part of your body. On top of those drums rhythm, "Ticking Clock" is driven by a stabbing synth filtered and unfiltered all the way to keep the listener on the edge and provide an extra punch to that tool.
"Pendulum Ride" is conducted by a low but festive sequenced synth line marked by hard cuts and punchy returns.