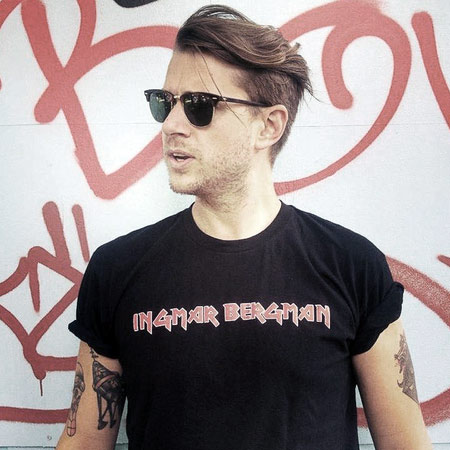 Axel Boman
Axel is in fact the Swedish word for shoulder, but born and bred Stockholmer Mr. Boman could just as easily have been named Rumpa, the Swedish word for ass, since most of his life has been dedicated to moving just that body part. It was around 1992 that Axel's ass started dragging the confused youngster into all sorts of weird situations – dodgy warehouses, blooming fields, sweaty basements – just about any place that had a nice sound system and someone pumping a fat bassline through it. With his older brother already being a collector of the latest techno and house records, Axel started keeping a strict diet of fresh beats which has kept him alive and kicking ever since.
Building a reputation for himself in the small but very friendly Stockholm club scene, he was soon acknowledged as one of Sweden's most skillful and best looking DJ dudes. Naturally, production activity followed shortly. Working out of small studios in his hometown as well as in Gothenburg (where Axel took his master degree in fine art), tracks like the underground hit"Arcimboldo"on Ourvision Recordings soon landed in the crates of connoisseurs like DJ Koze, Magda and Seth Troxler. His sounds is raw, playful and drenched in oceans of soul–just the kind of stuff the dancefloor's of today are longing for.
2010 was the big breakthrough year for Axel and his ass, with the epic screw house anthem"Purple Drank"being released on DJ Koze's new Pampa Records imprint (Resident Advisor's n#6 top best tracks of 2010), going off to London to participate in the Red Bull Music Academy and starting up his own label Studio Barnhus together with Petter (Border Community) and local idiot Kornel Kovacs. 2011 has seen Axel releasing a lot of new material – "Lucky Tiger EP" on Glass Table (9.5 /10 for DJ MAG UK),"Nattsudd"on Play it Down / Made To Play, "Europa" on his own imprint Studio Barnhus, as well as remixes on labels like Permanent Vacation, Moodmusic, Tartelet, Ovum Recordings. He's also been busy, touring the world (Fabric, London / Red Bull Music Academy, Tokyo / Social Club, Paris / Space, Ibiza / Panoramabar, Berlin / Mint Club, Leeds / 5 Days Off, Melkweg, Amsterdam / Los Angeles, Brussels). Axel has now his own recidency each first Friday of the month at the legendary club Berns, Stockholm .. Axel Boman no-doubt knows how to make you dance with fresh tracks of supremely energetic house all linked together by some distinct bounce.