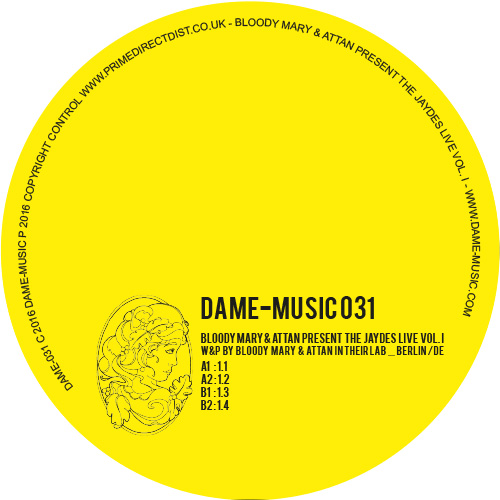 Description :
Dame-Music is opening 2016 with fresh cuts straight out of  The Jaydes live performance pressed on wax for the pleasure of your ears.While touring and performing their live show in some of the most renowned clubs and festivals in the world,  Bloody Mary and  Attan took the time to lock themselves in their Berlin lab to sharpen and create some new unreleased beats and loops to spice up and enhance the unexpected effect of their show.
Witnessing the enthusiasm and the positive response of the crowd while building these pieces into tracks on stage, the heartwarmed duo decided to go back in studio and record these sections one by one.
The result of these recordings is an uplifting four tracks EP floating between acid lines and stabbing synth chords that the two producer have the secret. Combine to their energetic signature rhythmics you'll quickly find yourself taping on the beat as the tunes evolves into insane club anthems. Be ready for no rest.
DISTRIBUTED BY PRIME DIRECT