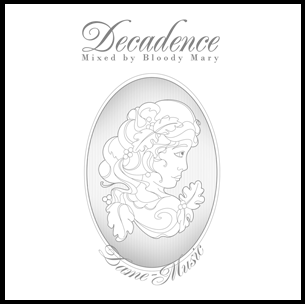 Description :
"Classicism is the subordination of the parts to the whole; Decadence is the subordination of the whole to the parts."
Decadence is the inaugural release from Dame-Music, the new label from French Berliner Bloody Mary, offering her mission statement in the form of an indulgent mix that showcases some of the finest moments in techno and house this year so far. With last year's debut studio album on Contexterrior, Black Pearl, Bloody Mary found inspiration in the work of poet Charles Baudellaire. This time around, she's bearing in mind Oscar Wilde's curious definition of "decadence" as quoted above.
Since moving from her homeland in 2005, Mary has made quite a name for herself DJing throughout Europe, North America, Mexico and Asia, playing in top clubs like Fabric, Watergate and Rex. With her global insight, Mary breaks down borders in dance music: in her world, burlesque piano flirts with trippy atmospherics, who pinches the ass of tribal percussion, who unzips the pants of a stomping electro bassline, until a tech-house orgy fills the room with body heat. She's not just developed her technically ability to mix, but also her ear, and with the foundation of Dame, she is officially a tastemaker. Decadence offers the best picks from labels mainstays like Cadenza, Mobilee and Crosstown Rebels as well as introducing fellow newcomers like Formatik and Blitz. As always, Bloody Mary's style remains powerful yet refined, invigorating, and ultimately optimistic.
Perhaps most interesting about the compilation are the vibrant new and exclusive tracks: the Latino-tinged "Indoors" by Argenis Brito, the quirky "Lotus" from Quenum, the dark but catchy "Perpendicular" by Sierra Sam, and the sunny swagger of Mary's own "Dandies". And for all the DJs out there, these four tracks are also available separately on 12″ vinyl and as digital downloads. Indulge yourself!