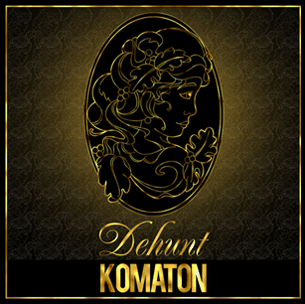 Description :
Dame-Music is proud to unveil the proper debut release from Austrian duo Komaton (Tomá Ivanov and Sebastien Lehner), the Dehunt EP. Their entry into the public sphere, a track on last year's Cocoon Compilation J, caught the attention of many DJs and was voted the #9 track of 2010 by Groove magazine's reader poll.
One of the tracks biggest fans was Bloody Mary who promptly got in touch to hear more. Although Komaton's pop-tinged electro doesn't sound like anything else she has released on Dame-Music so far, their clear rock sensibility is a perfect fit for the label's aesthetic, and here we have a full statement in the form of three tracks.
The head track of the EP "Dehunt" is a real fusion between electro and rock which is already a staple in Komaton's live set, both by the quality of its production style, massive live electric guitar basses and shadowy vocals by Tomá Ivanov that blend in the mix.
"Places" brings a smile of melancholy and nostalgia, intriguing and slightly dark, it captures subtle emotions carried by the acoustic guitar melodies and lyrics.
"Panty Girl" will get dancer's panties in a twist, with its twisted rhythm and smoky synthesizer.
Taken as a whole, Dehunt EP is a truly gorgeous piece of work that will fascinate and captivate open-minded listeners and dancers.