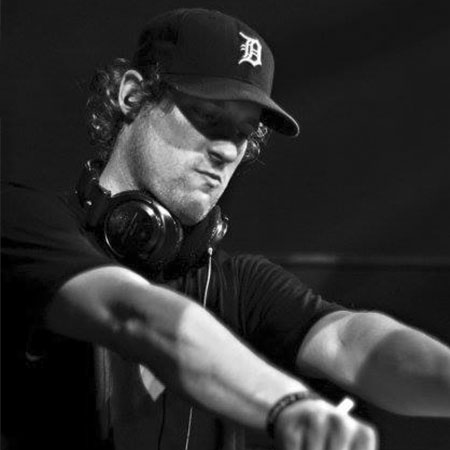 Derek Plaslaiko
Some people filter through the record bins, taking what are on the wall or record store employee suggestions. Then there are people who dig deeper into the dusty crates, and absorb music like a sponge; ignoring labels, bucking trends and are forever on a quest to find the perfect record. The ones that make the staunchest of chin stroking, note taking trainspotters lose their shit on the dancefloor, hanging on every record from one to the next.
Derek Plaslaiko unquestionably falls into the latter category. As a teen equally transfixed by Mojo and Wizard cassettes and Minor Threat 7"s, Plaslaiko followed the beats from his hometown 20 miles south of Detroit to the epicenter of Detroit techno, then enjoying its third wave of success. He quietly paid his dues on Detroit's rave circuit, and was a crucial piece of the puzzle for the legendary Poorboy and Analog parties of the mid-nineties. He quickly earned a reputation for forward thinking DJ sets that were clinical, sophisticated and extremely sensual. This combination resulted in a residency for Family, the weekly party at Detroit's legendary Motor.
With a reputation for high energy sets that were versatile and tasteful, Plaslaiko slowly became in demand on the Midwestern club circuit; sharing the stage with such techno luminares as John Acquaviva, Kevin Saunderson, Richardo Villalobos, Baby Ford, and Matthew Herbert. It was also during that time Plaslaiko was asked by Carl Craig to perform at the inaugural edition of the Detroit Electronic Music Festival.
In 2003, Plaslaiko became part of the original team of DJs at Detroit's Untitled parties, sharing a residency with Tadd Mullinix (aka James T. Cotton), Matthew Dear and Mike Servito. In 2004 he made the decision to head east and set up camp in New York City, determined to bring a slice of the Motor City to the Big Apple.
Currently, Derek is one of the resident DJs at the Bunker (Subtonic) in NYC, as well as an integral part of the Wolf + Lamb monthly parties. Most recently, he was honored in the Village Voice 2006 "Best Of" poll as New York's Best Techno DJ.