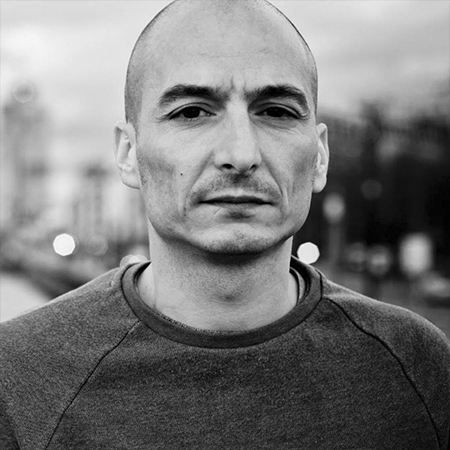 Gerome Sportelli
Gerome started making music in 1992 after the Acid House and New-Beat movement from late 80' he come from. At the begening Gerome used an old Commodore computer with a simple 4 channel tracker to make his music, this software was originaly used to make videogames music. Later Gerome became a compulsive analogue synth buyer starting with the famous Roland SH-101.
His music 'smells' old school, just like the early age of acid house, but infused with today's intelligent constructions and an engaged vision on music. Gerome's music is made from bronze age analogue synths, love, passion and modern digital mixing techniques.
During the 90' Gerome was involved as Clubber, Producer, DJ, Party promoter and graphic designer in different projects in his hometown, Liège in Belgium. His productions were signed under the name of various alter egos: Intex System (Reload Records) , Nepz or The Sense (a project he managed with Sammy Goossens). Under the The Sense alias, Gerome and Sammy released on very prestigious labels such as Teknotika (Detroit), Bipolar records (Detroit) or even Dark Print, James Pennington's (aka Suburban Knight) label (also known from Underground Resistance). The sense techno was charted by lot of big names like Umek on his Time Warp Compilation Vol. 4 in 2003. After that Gerome worked on Suburban Knight Live act and album called "Digital Warriors" to perform with James and Sammy across Europe.
In 2004 after working with Sierra Sam on their label "Serie Records", Gerome launched his own label, KRAX Records, and developed the mythic Chicago house sound which he loves to mix with electro and techno influences. It gives a certain freshness to Krax without denying the old school grove from the legendary TB-303. Acid Krax Vol. 2 became a huge success, especially with his own track "Growth", charted by The Hacker, Miss Kittin, James Zabiela and Plastique de Rêve, just to name a few.
The times flies and Gerome got involved into more minimal and techno sounds. A good example of this evolution would be his EP, "Exchange 303 to 808", released on Toys For Boys Records. This track has been played and charted by Paco Osuna, Bloody Mary, Tim Xavier… He also released lot of techno tracks on labels such as Rekode Musik, Fassade Records… Always open-minded and curious about new sounds and technologies.
In the begening of 2013 Gerome was asked to remix "Dachshund" and released some tracks on Caduceus Records, a new great Swiss label. End 2013 his love for vinyl records pushed him to start a new auto produced label project on limited vinyl records series wich is called "Sporty Limited". For this first Sporty Limited release, Gerome comes out with three stylish tracks. The first track, A side "Drive", is a fat house stomper with strong stabs and female voice hits. The break is intense and works effectively on packed dance floors. B1 is called "Free Range" and feels like summer. It's full of classic house sounds, filtered strings and hypnotic loops. This is a Chicago-styled, disco sampled, deep and classy house track we love and cherish. The B2 track, "Don't Go", is composed with a classic house bass, shuffled 909 drums and dark space strings. You'll immediately recognize the deep and melodic Detroit house sound.