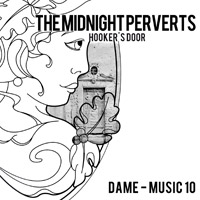 Description :
The Midnight Perverts, a name that has marked Dame-Music since his featuring on Sierra Sam's acclaimed track, "Queen of Spades", is written on the board once again for a three dancefloor songs Ep including a remix from Miss Jools.
After six years in Miami, The Midnight Perverts (AKA Romeo Ulgade) returns to Guadalajara to begin his residency at the renowned Bar Americas and spin all over Mexico. He has released many original tracks and remixes on labels such as: Get Physical and Only, but also on Neims which he is managing.
The header of the Ep, Hooker' s Doors, drags you through a strange and sexy journey into a perverted mansion. Lust is on the menu, a pleasure for listeners ears conducted by a decadent atmosphere. This track is full of surprises, you' ll never know what to expect: unidentified sound, vocals, melodies… What a meltin pot of music influencies. Seven minutes of unpredictible storm.
Halea goes for a spatial and electronic kind of sounds. Get on The Midnight Perverts spaceship for a trip to the stars.
As a last touch, Miss Jools (Mobilee) unveils a deeper side of the Hooker' s Doors with her "je ne sais quoi" which makes it warm and attractive.