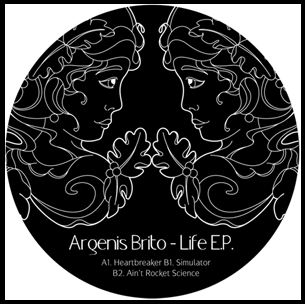 Description :
Venezuelan-born Berliner Argenis Brito first teamed up with Bloody Mary last year to provide guest vocals on her album Black Pearl, so when she launched her own label this year, he was a natural choice for release consideration. Techno and house heads of course know that he's more than just a singer (sometimes touring with Señor Coconut), but an established producer as well, with releases on respected labels like Cadenza and Mobilee.
Argenis recently appeared on the premiere Dame-Music release, the compilation Decadence, and he's back again with three more originals. Life is like a box of chocolates, except instead of caramel and nougat filling, we are treated with pop-tinged dancefloor grooves doused in Latin funk.
The EP kicks off with "Heartbreaker", built on a bouncy minor-key motif that paves the way for a familiar soulful voice delivering Oscar-worthy outbursts of "ABSOLUTE!" and "OH LORD!". Then, shifting the mood into more optimistic waters, "Simulator" enters the stage with an elegant housey swing, tiny 8-bit tunes and vibraphone accents. Finally, "Ain't Rocket Science" contrasts urgent, old-school house beats with deeper ambient melodies notes for an ear-catching experience. Life is best experienced at maximum volume!