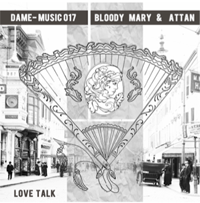 Description :
Everybody felt in love at least once in his life to experience the variety of emotions that one's goes through when in love. Although some of these emotions are sad, the eventual effect of love is deep and romantic, that leaves you begging for more.
For its 17th release Dame-Music has associated label owner Bloody Mary with upcoming artist Attan to express the feeling of love through their music. A brand new collaboration for them that introduce us to Bloody Mary voices as she is singing for the first time ever on her music.
The header of the Ep "Love Talk" opens up on a deep but energetic blend of drums and pads heading to melancholy with Attan and Bloody Mary voices sustained by an high pitched melody.
On his own for "Bipolar" Attan enter a darker side of the love story with a vicious melody and heavy house bass directed by a classic and original drum set pattern.
For the finale we are back with the duo on a sentimental electronica tune made 100% out of analog instrument including TR-606, Juno 106 topped with Mary's vocals.