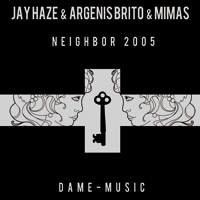 Description :
Jay Haze (Contexterrior), Argenis Brito (Dame-Music, Cadenza) and Mimas have joined forces, as an explosive trio, for a two monster tracks Ep. Dame-Music present "Neighbor 2005"
The story of this collaboration begins in Philadelphia. Jay's neighbor was always complaining and getting aggrivated when music was played and made. One night the dude could not take it any more and threatned Jay to call the police on him. "This was not cool…" So Jay convinced him to come inside and enjoy the party! The complainant had such a good time that, he did not call the cop, but missed work the next day!
Back in Berlin, the crew sat down in the old "Ultradope syndrome" studio in Mitte, and recorded the tracks all gear mixed down live which made them sound so rough and raw, but lively.
This Ep reveals two tech-house tracks about the same story, but so different from each other. Like two different point of view. "Neighbor part 1" sound minimalist and mental, dark and metallic even a bit tripy as "Neighbor part 2" hit the dancefloor straigth away with a rolling bass and heavy kick which set the tempo and make you move on the first bar.