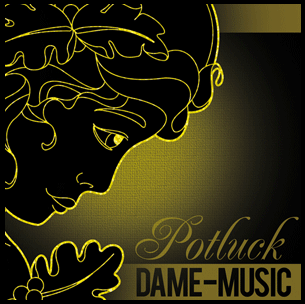 Description :
Since Decadence in June 2010 and seven EPs released this year, Dame-Music is a continuous story of success and has established itself in the underground music scene.
The triumph of Bloody Mary's "Arabesque" EP on national radios was a turning point for the label which has defined its musical identity, a modern genre of electronic music blended with a touch of rock, disco, classic or new wave influences.
Last hits Sierra Sam's "Queen Of Spade" EP and Komaton's "Dehunt" EP are an excellent representation of the Dame-Music signature. The artwork of the label has also seen a significant evolution by the quality of its covers and teasers which fully fits with the music.
To celebrate its first anniversary and give a first overview of the label imprint, Dame-Music is proud to present Potluck, a special compilation of unreleased tracks, produced by five duos (one of the Dame-Music's artists, plus one of their friend).
Bloody Mary got this concept to gather the Dame-Music family (mostly consisted by Mary's Berlin based artists and friends) to work hand in hand with the music and artwork. They shared talent, creativity, emotions and ideas.
Bloody Mary & Sis feat Anji Bee "Cast out of Paradise" is charming, slightly dark and deep with feminine moans, and low synth. A tune who could fit in a club as well as in a living room.
Komaton & Cesare vs Disorder "Come Along" a mix between new-wave, postpunk, electro and techno… The Potluck by definition and excellence!
jozif "Ethereal" is an exclusive track as a welcoming to the Dame-Music artists roster. Breakbeat influence blended with strings sharp as a blade for a tender melody.
Quenum & Paris the Black FU "Two Black Runners" will get dancers in a mood with its synth melody pattern, percussive hook and "Detroit Grand Pubahs" vocals (aka Paris the Black FU).
Sierra Sam & Tolga Fidan "High School Paranoia". Fresh and funky, a slap back to the 80s.
Timid Boy & Marco Resmann "V15" a deep tech-house ambience followed by deep synth notes and hovering voices.