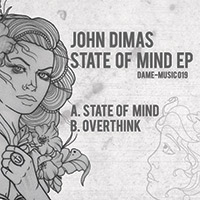 Description :
After a well noticed appearance on the Dame-Music 018 'Klub Klub Elite Vol.3 with the track 'Future Drop', as well as the amazing success of his first live act in Berlin's notorious Watergate club at the beginning of the year, John Dimas is back on Bloody Mary's imprint for his own solo Ep.
'State Of Mind' Ep unveils two tracks singles from John Dimas' best techno sounds and rhythms exclusively to Dame-Music. Greek producer John Dimas, who has been heard on labels such as One Records and Bass Culture, proves once again that techno can still be innovative, fresh, inspiring, but at the same time still contain those classic influences of the 80s and 90s that we all love so much.
The title track, "State of Mind", introduces itself with a classic pattern of measured rhythmic claps and subtle hi hats, the ensemble is made complete with the arrival of a warm analog bass line, the warmth of the bass contrasts and compliments the sound of the main keys. On the B-side, 'Overthink' shows signs of becoming one of this year's dance floor anthems.
Dimas makes things even more interesting when after the first break he introduces a melody of synths and pads reminiscent of Chicago House classics, but of course, with Dimas's own unique touch. When all the elements in the track come together, the unstoppable flow of rhythm and groove becomes evident.