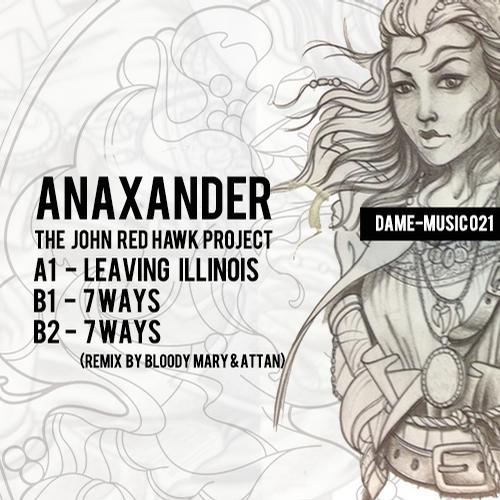 Description :
For Them 21st Release, Dame-Music is proud to present upcoming artist Anaxander with "The Jonh Red Hawk Project".
Influenced by various artist styles from the likes of Front 242 to Juan Atkins and Chopin, Anaxander's characteristic sound is raw, intense and melodic. Only using analog gears and most of the time recording on one take, that old school jamming house music style is well preserved. After releasing "Moon Of Jupiter" followed by the Ep "From The Dirty South…Of France" on Pittsburgh Record label "Love What You Feel", Anaxander conquer the Sweden by releasing on "Local Talk".
As label owner he also producing on its own imprint "Got 2 Go". "Leaving Illinois" starts on a sweet and tender melody enhanced by a nicely build rhythmic to, after a minute, let place at a rolling bass that Anaxander got the secret. As it goes hypnotic along the way the music keeps its grooving identity till the end.
On the B-side, Acid's on the menu. Back with another mind blowing bass line "7 Ways" is the perfect tool to drop in a mix. And to spice up this Ep, who else than Bloody Mary & Attan. A remix that turns "7 Ways" into a pick time Techno track sweetened by melodic pads. Those two are working on them upcoming album due for 2014, the first Lp on Dame-Music.