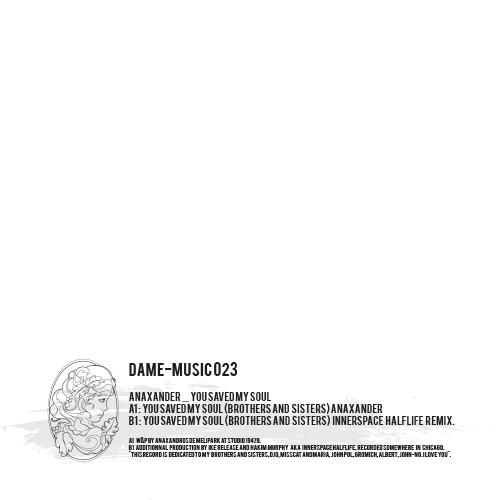 Description :
Following a noticeable entrance onto the Dame-Music roster with the Dame-Music 021 "The Jonh Red Hawk Project", Anaxander returns on Bloody Mary's imprint for an other fine Ep. With a deep, spooky and atmospheric introduction, "You saved My Life (Brothers and Sisters)" cruises through with rolling drums and metallic bass softened by pads.
This subsequently evolves into that 'Anaxander' signature melody as the track twists it way to an uplifting mood. The Marseille (Fr) based producer has certainly mastered the art of arrangement, forming an identity through dramatically contrasting juxtaposition of elements.
With astonishing production of this kind, this is only the beginning of our surprises. To complete this release, the Chicago based duo Innerspace Halflife (composed of Hakim Murphy and Ike release), who appeared on Skudge Records and M>O>S recording, get down to business and treat us to a psychedelic, mind-blowing remix.
Heavy, brooding kicks, powerful delayed snares and distorted melodies combine to form a more industrial, dirtier version of the original. An other great release not to miss on Dame-Music.